BTS is indeed perfect from head to toe. But do you know how they managed? What kind of BTS diet routine is? Its something that you can't even imagine!

source: uhdpaper.com
More then any other k-pop idol BTS are known for their extreme and harsh diet. In fact, people who have seen BTS in front of their eyes only say;
"They are much thinner than I have thought and looked like dolls".

screenshot from Korea Crush youtube
All of the BTS members worked hard on their diets to maintain the Handsome Looks that amazed the World. So what kind of food they eat? and How do they exercise? Let's talk about the BTS diet today!
Bts Diet Plan:
1. Jimin Diet
Jimin who has changed the most before and after the diet.

source: mnews.joins.com
He revealed how he lost 10 kgs of weight in a tv program please take care of my refrigerator.

screenshot from Korea Crush youtube
He said that; it was a one meal diet. Jimin said that he didn't like his reflection in the mirror while practicing the choreography of blood sweat and tears.
screen shot from bighit youtube
The song has a sexy concept and he felt that his chubby look didn't match the song. At that time only three of BTS members Jin, Jungkook, and V were known to be the visuals but Jimin decided that he should also be visual and become a new visual among the Members of BTS. He wanted to say Goodbye to his old cubby look.
In the end, Jimin had on with just a "one meal" diet while practicing the intense choreography for 10 days to lose weight. He felt weak and dizzy that he would get himself hurt if he kept ongoing.

screenshot from Korea Crush youtube
BTS interviews tell that Jimin when a member told him to go to eat, he was lying helplessly on the floor of the practice room and said "I m not going".
When Jin said "You will hurt yourself if you kept on eating like this"
screenshot fom Korea Crush youtube
and Jimin replied, "I m taking care of myself".
Jimin confessed that he was very sensitive when he went on diet and he often answers bluntly to the members. Later on, he was worried about Jungkook when he went on diet just like Kim seok-jin worried about him. Maybe he realized that losing weight in a short period of time was bad for his health.
BTS says that their fridge at the dorm is full of chicken breasts. The members of BTS hated it so much especially "Jimin".
Instead, they changed all of then to chicken breast sausages now. Well, it didn't make a huge difference. Jimin said that his shoulders hurt often and he avoids playing intense sports.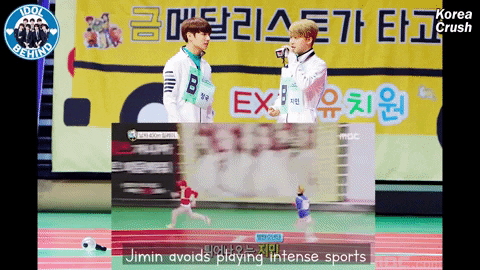 Unlike the other members of BTS especially when he starts going on stage he only does light exercises like practicing dance and body stretch for his condition before the concert. In the past Jimin diet and workout intensely so we hope that Jimin eats more and doesn't get too stressed about his body.
Jungkook Workout
Just like Jimin, Jungkook diet routine was also harsh. In the V-app broadcast he said that diet was tough, saying that if he hadn't been a celebrity, he would have ordered beer and food right now.
source:screenshot from youtube korea crush
Jungkook workout hard because he likes to appear on screen with a sleek face. But when he gets a little fat he hates his appearance. Actually, his will on diet is great. When other members having Doughnuts and Topokki, he just smelled and never ate it (many Korean fans felt sorry for him).
Jungkook is a member who has the most different body shape from the beginning of his debut. However, Big Hit opposed him from building more muscles.
source:screenshot from youtube korea crush
because they wanted him to have a Boyish Image but he was getting muscular and the result of Jungkook workout was Jungkook abs.
Jungkook working out the video was posted on Twitter once by himself. It drew a lot of attention because Ryan Renolds like the video and started following BTS.
source:screenshot from youtube korea crush
As Jungkook workout hard with the disciplined diet he must be in a good shape.
Jin diet
Jin also revealed how he lost 7 kg on the same TV show as Jimin "Please take care of my refrigerator".Bts Jin diet for a year, eating only two packs of chicken breasts every day.
source:screenshot from youtube korea crush
Jin said that there will be tens of thousands pf chicken that he ate and couldn't longer eat chicken breast because he was sick of it.
At that time, the doctor advised him to take Vitamins with other Nutrients together but he wanted to lose more weight. Eventually, Kim seok-jin had to suffer from malnutrition. It is rare for a Boy Group member to become malnourished. This shows how severe the Jin diet was. I think it was a lot more burden because he was in charge of Handsome looks of BTS.
We can see how much Jin worked hard to maintain a good appearance.
source:courtesy to bighit
Tae Hyung Diet
Kim Taehyung (BTS V) the King Of Visuals likes fattening food like Hamburgers and Fried Chicken.
source:screenshot from youtube korea crush
Also, he didn't enjoy exercising either. Jungkook once said that he looked at him and thought: "How can he not gain weight while eating like that?"
source:courtesy to bighit
But when the BTS stage schedule comes up V cuts of all Fast Food and works out hard. V was very thin at the beginning of his debut but now he is a Muscular Man by working out and training hard.
source:freeaddon
Min Yoogi (Suga) diet
Korean netizens started commenting #Yoongiweloveyou on Suga's appearance after noticing that Yoongi gains weight.
source:courtesy to bighit
Instead of worrying about his body fans' reactions were like amazing "I m so glad that he has been looking healthier' Suga once revealed on a Tv show that he was underweight. He said that; "I can't help but lose weight because I look much fatter on Tv".
Lets checkout the Suga diet routine. He exercises for two hours daily and never eats after 6 p.m.
source:courtesy to bighit
Especially when he is in the studio he frequently skips his meals. Reducing the amount of food seems to be his way of the Suga diet.
The shocking diet of Suga
Once J-Hope& Jimin revealed the shocking diet of Suga. They said;
"He mixes orange juice with chicken breast".
J–Hope and Jimin: "That's exactly how Suga eats" Suga mixes Grape Juice, Chicken Breasts, and Bananas together. Jimin said that
"I would never eat like that".
J-Hope diet
J-Hope also controls the amount of food he eats. When he was on the Radio program. He shared his diet tips. J-Hope loves wearing clothes and very interested in Fashion so he must be very careful about maintaining his weight.
source:screenshot from youtube korea crush
RM Diet
Bts's Leader RM appeared on a TV program from (Sangamore) and shared his story about why he went on diet. In the program, there was a female student who said that she is living to eat
source:screenshot from youtube korea crush
and RM was very sympathetic. He loved eating so much that when he was a Trainee he could have eaten the whole pizza alone although he was chubby during his school days.
Here is also a decisive reason that the RM diet to look good on a girl he liked when he heard that the girl liked Slim Men. So he went on a diet and succeeded
Even without going on a diet, BTS will likely lose weight just by practicing their Choreography. You can see how hard the BTS diet to come up here by eating less and exercising more
We can just support these talented boys by loving and appreciating them.