BTS is telling what they want to hear from the ARMY on their comeback and it is heart touching!
BTS all members (Jin, Jimin, J-Hope, V, Jungkook, RM & Suga)had an interview on the set of ON official Mv. It was a 7–second interview. So they have to answers the questions within the time limit of 7–seconds. They were catechized with interesting questions for which they gave very adequate answers. Out of them, there was a question
"What do you want to hear from ARMY on this comeback?".
BTS gave very affectionate replies. let's have a look
RM
source:twitter
RM said in a very enthusiastic way what he wants to hear.
"Bangtan's back, like that. That was just like in the movie Sunflower "You're back".
JIN
source:screenshot from youtube
Jin wanted to hear the words like
"This comeback as always they are working hard, looking handsome and doing great ".
V

source:screenshot from bangtan tv official
V wanted the ARMY to commend their hard work;
"Bangtan has really grown even more? They really worked hard for this. They really brought lots of things for their fans." That's what I'd like to hear.
JIMIN

source:screenshot from bangtan tv official
Jimin said in his signature flirting and charming way;
"I m so happy. You're inside my heart "
JUNGKOOK

source:screenshot from bangtan tv
Jungkook wanted these kinds of things;
"That's BTS, BTS you can count on. They keep getting better. Worldwide class."
J-HOPE

source:screenshot from bangtan tv offiicial
J–Hope wished  ARMY to feel proud of being BTS fans. He said he wanted to hear from ARMY;
"I'm glad! I became a fan of BTS"
J-Hope we are so proud of you & BTS and very happy for being fans of BTS.
SUGA

source:screenshot from Bangtan tv offiicial
Suga had worked hard and improved a lot his dancing skills and we can see that.
So he wanted the ARMY to praise him. What he wanted to hear is that;
"Suga's gotten much better. I worked hard on my dancing so, I think you won't be disappointed."
And what BTS wanted to say ARMY? When they asked.
RM
 "Dressed like this, I feel kind of like m looking at myself in my 70s" 
JIN
"Its thanks to you that we can come to a beautiful place like this and do this shoot."
V
"I want to show lots of things, share lots of things, be together for lots of things"
JIMIN
"Thank you for always waiting for us. This Album is going to be full of joy. I hope we'll be happy together"
And Jimin got super–excited after this and screamed cutely,
"I LOVE YOU"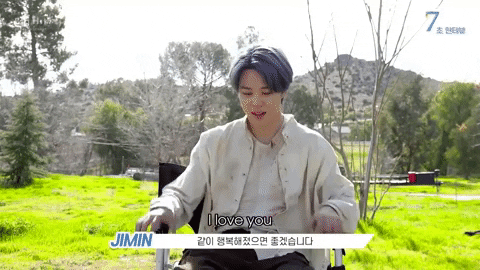 JUNGKOOK
"I hope all us together will have some Joyous time and we'll Show only the Best of us Great performances, Amazing shows."
J-HOPE
"Everyone once again there's a new Album for all of You. Lets always be together."
SUGA
"Please look forward to it. We worked so hard on it &I m sure you'll love it ."
Lets us just give BTS appreciation and respect which they deserve.
Watch their complete Interview here.